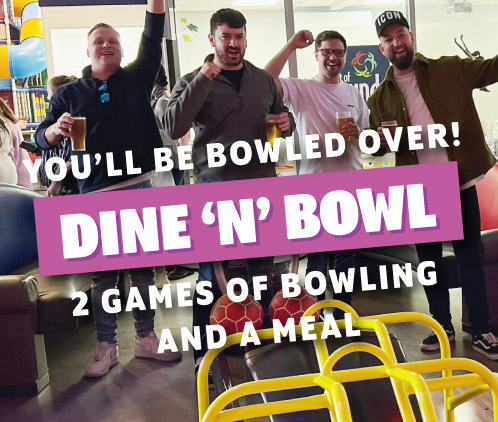 Dine 'n' Bowl
Get down to Out of Bounds any day of the week from 4.00pm for our Dine 'n' Bowl Deal!
The deal that's perfect for all occasions – family, friends, and date nights. With our Dine 'n' Bowl offer, you can get two games of bowling and a *meal of your choice for just £17.95 per person.
Stuck on a weekend? Bowling! Date night? Bowling! Family outing? Bowling!
What are you waiting for? Spend some quality time together on the lanes and enjoy a little healthy competition. While you're playing we'll start cooking your order so you don't have to worry about a thing.
After booking and checking in with reception, simply head over to the dining area with your receipt and choose from our Pizza Margherita, American Style Hot Dog with Chips, The House Cheeseburger with Chips, or The Vegan Burger with Chips. We'll bring it over to your lane when it's ready!
We promise you'll be bowled over by our 12 state-of-the-art bowling lanes with automated bumpers. Each lane is also fitted out with a comfortable sofa-style seating area for you to relax in between nailing those strikes!
Available Daily 
4.00pm – Close
Food must be ordered 45 minutes before centre closing time.
What is included in the offer?
• 2x Games of Bowling
• Meal of your choice*

*Meal Choices: *Choose from Pizza Margherita, American Style Hot Dog and Chips, House Cheeseburger and Chips or Vegan Burger and Chips.
Before booking please click here to read our Terms & Conditions.